Be A Role Model
All JA™ programs are taught by trained professionals who bring the lessons to life using their personal and professional experiences. JA's proven turn-key programs provide students with experiential leaning in a classroom setting.
Helping young people develop life skills, observing "ah ha!" moments of discovery, and showing them the relevance of school to their lives is inspiring work. Knowing that you have made a difference in a child's life is a satisfying feeling. We provide volunteers with everything needed to succeed, including training, materials, and lesson plan.
If you are interested in volunteering for Junior Achievement, please complete the form below.
The JA experience would not be possible without the dedication from our amazing volunteers. Our Solutions and Programs document outlines our ideal characteristics of a JA volunteer, as well as some frequently asked questions. Please contact us if you would like additional information on how to get involved and volunteer with JA of Greater Fairfield County.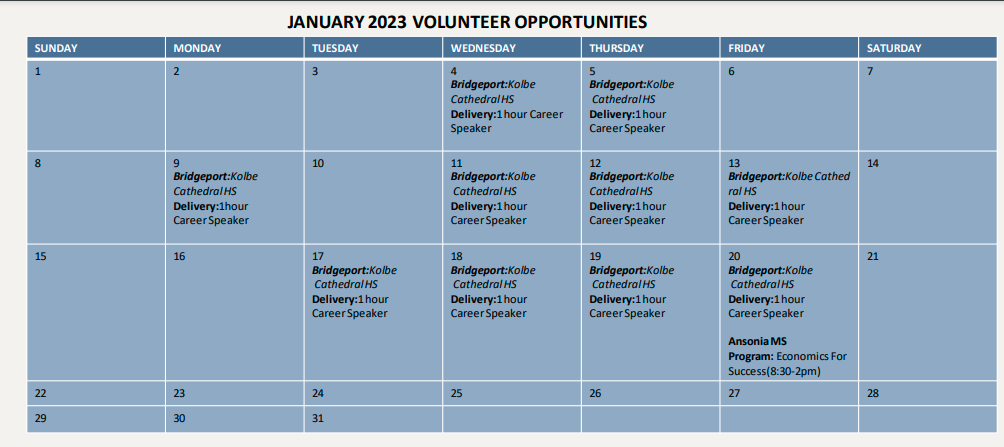 Kolbe High School is having a Guest Speaker Series highlighting entrepreneurship, career and/or finance. For more information on Bridgeport opportunities please contact Twanda McAlister at tmcalister@jagfc.org.
Ansonia Middle School is participating in Economics for Success (focused on personal finance). We are looking for 4 volunteers from 8:30-2pm.For more information on Ansonia opportunities please contact Kristine Dovale at kdovale@jagfc.org.
As a JA volunteer, I see how this program gives students the opportunity to explore important business concepts. I am always impressed with the activities and the way the activities tie in important business concepts in a fun and meaningful way. It is very rewarding to see the students learn, and it is exciting to see their enthusiasm for the program and activities.
4th Grade Bridgeport Volunteer
We want you to share your story!
Are you a JA Alum, Volunteer, Educator, Student, or supporter of JA? We want to hear your story! Click the button below to submit.