Boehringer Ingelheim
Boehringer Ingelheim (BI) is a model partner for JA. As a loyal JA supporter for over ten years, BI contributes through their charitable foundation and with dedicated employee volunteers. In the 2022-23 school year, dozens of BI employees gave their time for a very successful JA in a Day at Westside Middle School Academy in Danbury and for an engaging healthcare career panel at Danbury High School. We are so grateful for BI's commitment to JA, our mission, and our students!
Aquarion Water Company
Aquarion has been an outstanding partner to Junior Achievement for many years. From their board participation (Peter Fazekas serves on our Board of Directors, and George Logan is on our Emeritus Board) to their volunteering in the classroom, Aquarion employees continue to engage with JA students and support our mission. Aquarion's generous financial contributions also help to bring experiences like JA Inspire: Here to Career to more students in our community. With our local offices housed in the Aquarion building, we are proud to call them our neighbors and our partners.
Elisabeth C. DeLuca Foundation, Inc.
The Elisabeth C. DeLuca Foundation, Inc. and The Frederick A. DeLuca Foundation, Inc. have been longstanding generous supporters of JA of Greater Fairfield County and have positively impacted thousands of young people in greater Fairfield County. This year, funds from Elisabeth C. DeLuca Foundation, Inc. helped to support many programs, including our JA Inspire: Here to Career yearlong program, which was comprised of a series of events and mini camps. Through this cohort-based, comprehensive program, high school students experienced JA sessions focused on skills assessment and career planning; learned from guest speakers and industry panelists about career pathways; and took part in workshops on interviewing and resume writing. As part of their JA Inspire: Here to Career program, Bullard-Havens Technical High School students in Bridgeport were visited by JA volunteers from Yale New Haven Hospital. The Yale New Haven Hospital volunteers served as guest speakers, sharing information about their careers in healthcare and the paths they took to get there. Students heard from high-ranking healthcare professionals from the Nursing Operations, Pathology and Clinical Laboratory, and Clinical Engineering departments. One volunteer commented, "Thank you for giving us the opportunity to speak today. It was a pleasure for me to hopefully inspire some young minds and help them along their journey. I think I saw a few light bulbs go off myself."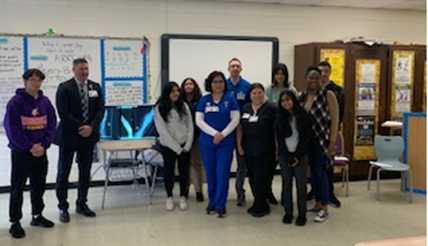 Pitney Bowes
For many years, Pitney Bowes has demonstrated their dedication to JA's mission and to the young people of our region through their generous giving and committed volunteers. Pitney Bowes provides volunteers who serve as mentors to our students in classrooms each year as well as funding to help implement the programs. Additionally, Pitney Bowes has also generously sponsored several JAGFC special events this year, including the Business Hall of Fame and Business Challenge, whose proceeds support JA programming throughout Fairfield County.
"Pitney Bowes and our employees are delighted to support JA and their efforts to inspire and prepare young people to succeed in a global economy. " says Kathleen Ryan Mufson, Director, Global Corporate Citizenship & Philanthropy and President, Pitney Bowes Foundation. "We congratulate the entire JA team for their dedication, and we applaud all of the students for their active participation in this enriching learning that builds financial literacy, work-readiness and entrepreneurship skills." Highlights from this past year include:
JA in a Day at Stark Elementary School
In May 2019, ten volunteers from Pitney Bowes visited Stark Elementary School in Stamford and taught fifth-grade students about the demands of the 21st century job market, with a focus on high-growth career fields. Students learned about the skills, especially in science, technology, engineering, and math, that will make their futures brighter.
"Thank you for introducing our students to possible career paths. It is not something that they have the opportunity to think about. This was a great way to introduce them to careers and businesses that they did not know existed."
High School Business Challenge
Through a highly engaging competition in which student teams ran virtual businesses. more than fifty students had the opportunity to learn about the risks and rewards that come with running a global business. In addition to the business competition, students also participated in other interactive activities focused on business etiquette, networking, and teamwork. The High School Business Challenge was sponsored by more than twenty local businesses, including Pitney Bowes.
"It was an excellent opportunity to not only compete against local schools but also network and build connections. This has been an excellent experience to learn from professionals." – Nick, Seymour High School
Valley Community Foundation
JA of Greater Fairfield County has been the recipient of several multi-year grants of general operating support from the Valley Community Foundation over the past several years. This enables us to bring programs like JA Inspire Virtual, our virtual career exploration experience to students in the Valley. In the spring of 2021, we held our first ever JA Inspire Virtual, and hosted over 1,500 students and community partners throughout the three months that the fair was open. Students had the opportunity to visit virtual career booths and learn more about local companies and careers throughout, as well as educational opportunities in our area. They also heard from industry professionals in the auditorium and Entrepreneur Hub. Now in its second year, this experience allows for our students to start thinking about what they want their future to look like and expose them to careers they may not have even known were possible.
"My experience can be summed up into two words: empowering and inspiring." – Seymour High School student.
The Raymond P. Lavietes Foundation
Support throughout the years from The Raymond P. Lavietes Foundation has allowed for JA of Greater Fairfield County to continue delivering program to our students in the Valley area. This past fall, students from Ansonia High School participated in the High School Heroes program. Through this experience, twelve high school students had the opportunity to deliver JA program to fourth grade students at Mead Elementary School.
This experience allows for our high school students to become role models for the younger students, as well as improve upon their presentation and public speaking skills.
United Way of Coastal Fairfield County
During the summer of 2021, JA of Greater Fairfield County was selected as a partner on a Summer STEM Enrichment Program with the Greater Bridgeport STEM Learning Ecosystem and several other Bridgeport organizations. JA of Greater Fairfield County received a grant of $30,000 from the Connecticut State Department of Education, via United Way of Coastal Fairfield County, as a part of this initiative.
Students from Bridgeport Caribe Youth Leaders (BCYL), Cardinal Shehan Center, PT Partners, Access4Kidz, and Fairchild Wheeler experienced JA Inspire Virtual, our virtual career exploration event. Through JA Inspire Virtual, students had the opportunity to visit virtual company booths to learn about local businesses and careers within those organizations. Students also had the opportunity to visit the virtual auditorium, where they attended webinars from industry professionals, as well as the Entrepreneur Hub, where they heard from local entrepreneurs on their journey to becoming business owners.
BCYL Success (College and Career Bound) and Access4Kidz participated in JA Personal Finance, where students learned about various money management strategies.
Synchrony
The Junior Achievement Golf Classic at Winged Foot Golf Club is one of our signature annual events, with 2021 marking the 24th year of the tournament. Synchrony Financial has been a loyal supporter of Junior Achievement and our mission as the leading sponsor for the Golf Classic for several years. Tom Quindlen, JAGFC Emeritus Board Member and EVP & CEO of Retail Card at Synchrony, has been a longtime supporter of JA. He has assisted JA of Greater Fairfield County by securing funds for our annual golf tournament at Winged Foot, as well as bolstering our efforts with peer-to-peer fundraising .
Synchrony has also supported Junior Achievement of Greater Fairfield County by offering a generous employee matching gift program, including both double and triple match options.
City of Bridgeport
In November 2021, Junior Achievement of Greater Fairfield County was awarded a $255,000 grant funded by the City of Bridgeport through the Biden Administration's American Rescue Plan Act . "We appreciate the efforts of Junior Achievement along with the programs and opportunities they provide that will positively impact young people of Bridgeport with measurable success," said Bridgeport Mayor Joseph Ganim. "This substantial allocation of funding will go a long way with supporting youth and helping them become well rounded individuals ready to reach their goals as members of our community."
JA of Greater Fairfield County will receive $85,000 for the next three years. Through these funds, we are looking forward to continuing to expand JA programming in Bridgeport, with both in-classroom and specialized learning experiences. We are also developing a yearlong middle school leadership program for Bridgeport students, that will provide them with the resources they need to have a successful future.